Filter by Category
Healthcare Training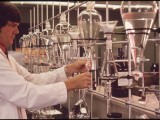 Chemistry for College and Career Prep with Lab
with David Perkins

Jun 21, 2021 at 9 am

, runs for 8 weeks
This 7 week course will dive into the most important concepts in chemistry needed to succeed in a college chemistry classroom. Everything from particle diagrams to stoichiometry will be covered as students gradually develop a particulate model of how matter behaves by observing and interpreting experimental evidence. The course is designed to make learning chemistry easy and offers students individualized instruction, a variety of learning mediums, simplified concepts and even virtual labs all in a remote setting. Start building the foundation you need to enter medical and science majors with confidence and tools to succeed. Free to Adult Education HiSet or Diploma Students. After completeing this course drinking water and water treatment operators will receive 18 training contact hours approved by the state of Maine. 
Behavioral Health Certification
with Woodfords Services
Children's Behavioral Health Services are vital to Maine's children with Intellectual Disabilities, Autism and Mental Health Disorders and their families. And the need in our area is great! We are excited to connect our adult education community with this wonderful ONLINE training program. The online training will equip you to successfully help children who are currently on a waitlist for services. The training will prepare you for employment through local social services agencies. The program can be started at any time and finished at your own pace.
You will complete 12 online modules then 3, 4-hour live sessions, including the new ethics and boundaries training.  Once the modules are completed, you will receive free online blood borne pathogen training and virtual First Aid & CPR training if you do not already possess those certifications. The entire training requirements will take about 45 hours. Any individual who will be 18 years of age or older upon completion of the course may register. 
The Marshwood and Kittery Adult Education staff can advise and support students on their training journey and after during the job search process.  We can assist with tutoring, technology training, or with lending a device to take the class online.