Filter by Category
College Transitions
Environmental Science
with David Perkins

Jan 19, 2021 at 5 pm
This class is free for Marshwood Adult Education Diploma students. Throughout this course students will learn about the earth and our impact on our environment. The course will focus on project based learning with many opportunities for students to choose their learning paths. After completing this course students will gain a wide breadth of knowledge of the earth's systems, human impact on the environment as well as taking a look at modern issues of misinformation and political influence.
Registration Unavailable
Math for Trades
with Samee Mushtak

Mar 1, 2021 at 6 pm

, runs for 10 weeks
There is a critical shortage of professional trades people. If you're interested in applying for an apprenticeship program or starting a college program in the trades and would like to improve your math skills, consider this course! 
Review decimals, fractions, percentages, unit conversions, and practical algebra and geometry. 
This would also be an excellent course for people in any field to brush up on fundamentals. It's a great preparation for exams like the Accuplacer. 
Online/live/face to face 6:00pm-7:30pm Monday with additional individual instruction as needed. 
March 1-April 29
Course fee- $80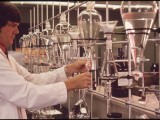 Chemistry for College and Career Prep with Lab
with David Perkins

Jun 21, 2021 at 9 am

, runs for 8 weeks
This 7 week course will dive into the most important concepts in chemistry needed to succeed in a college chemistry classroom. Everything from particle diagrams to stoichiometry will be covered as students gradually develop a particulate model of how matter behaves by observing and interpreting experimental evidence. The course is designed to make learning chemistry easy and offers students individualized instruction, a variety of learning mediums, simplified concepts and even virtual labs all in a remote setting. Start building the foundation you need to enter medical and science majors with confidence and tools to succeed. Free to Adult Education HiSet or Diploma Students. After completeing this course drinking water and water treatment operators will receive 18 training contact hours approved by the state of Maine.