Filter by Category
Exercise & Outdoor Fun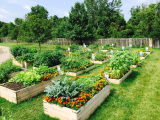 Putting Your Garden to Bed
with Mary Wicklund

Oct 3, 2018 at 6:30 pm

, runs for 1 week
While we still have (hopefully!) several more weeks to enjoy the bounty of our growing season, it's not too early to think about putting our gardens to bed for the winter. Fall is a time to use season extension methods, reflect, to plan, and yes, to plant crops to enjoy next spring! Whether your are celebrating the break from gardening in the winter, or mourning the end of the growing season, we'll discuss what steps to take now to put your garden "to bed", and ensure a successful spring.
What's All the Buzz about Bees
with George Muller

Oct 24, 2018 at 6:30 pm

, runs for 1 week
Join Maine State Beekeepers Association member, George Muller, as he shares the sweet rewards of beekeeping. Bees are some of the hardest working creatures on the planet, and because of their laborious work ethic, we owe many thanks to this amazing yet often under-appreciated insect. Topics include the benefits of beekeeping, the life cycle of a bee, and the equipment needed to manage a hive. Learn where to buy bees, some of the Maine State Regulations, initial start up costs, and the benefits of joining the Maine State Beekeepers Association, and the York County Chapter.