Filter by Category
Gardening
Compost with Confidence
with Mary Wicklund

Sep 19, 2018 at 6:30 pm

, runs for 1 week
Not sure what to do with all your kitchen, garden and yard scraps? Are you overrun with piles of leaves? Would you like compost for your lawns and gardens in the spring? No matter where you live or what season, learn how to make composting succeed for you!Inside or outside, any time of year…what style of compost system best meets your needs? This class will cover the basics of backyard composting. You will learn the different types of compost systems, the do's and don'ts of composting, how to build your pile and keep it active, and the basic science behind it.
Growing Garlic
with Mary Wicklund

Sep 26, 2018 at 6:30 pm

, runs for 1 week
Garlic is one of the easiest vegetables to grow in the home garden. While most of the garden harvest is nearing the end, fall is the time to start that garlic crop. Learn helpful tips and techniques for a successful crop, including saving your garlic to plant the following year!
Seed Garlic will be available to purchase at the class.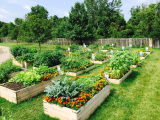 Putting Your Garden to Bed
with Mary Wicklund

Oct 3, 2018 at 6:30 pm

, runs for 1 week
While we still have (hopefully!) several more weeks to enjoy the bounty of our growing season, it's not too early to think about putting our gardens to bed for the winter. Fall is a time to use season extension methods, reflect, to plan, and yes, to plant crops to enjoy next spring! Whether your are celebrating the break from gardening in the winter, or mourning the end of the growing season, we'll discuss what steps to take now to put your garden "to bed", and ensure a successful spring.